Johto sync pair exclusive!
5★-Guaranteed Johto Ticket Scout
Starting today, the new 5★-Guaranteed Johto Ticket Scout is available in the Shop's Ticket Scout!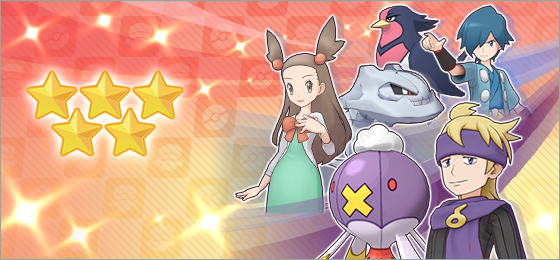 The 5★-Guaranteed Johto Ticket Scout can be used once for every 5★ Johto Scout Ticket ×30 collected and they can be obtained, for example, as event rewards.
This sync pair scout guarantees you one 5★ sync pair from Johto.
Obtaining

5★ Johto Scout Tickets
5★ Johto Scout Tickets
can be obtained as completion rewards from Johto Team-Up: Beginner, Johto Team-Up: Intermediate, and Johto Team-Up: Advanced in the
Battle Point Challenge:
Daily Region Rotation.
Note: You'll have other chances in the future to obtain
5★ Johto Scout Tickets
from events and game content other than those listed above.
Important
To check the available

sync pairs

and their respective offering rates, go to the Offering Rate section on the

Sync Pair Scout

screen.

Sync Pairs

that are not from

Johto

will not appear in this

sync pair scout.

Please note that you cannot have two or more

sync pairs

that include Trainers with the same name in your team.
Please read the Notes section under Offering Rate on the Sync Pair Scout screen before using the feature.
The featured content is subject to change without notice.
We hope you continue to enjoy Pokémon Masters EX.