You can team up with a fair-exclusive sync pair!
Monthly Poké Fair Scout Vol. 3 under way!
5★ N & Zekrom are being featured in this limited-time Poké Fair Scout!
5★ sync pairs have a 10% chance of appearing in the Poké Fair Scout!

Teaming up with 5★ N & Zekrom allows you to invite N to the Trainer Lodge.
Plus, powerful new Fair-Exclusive Sync Pair tiles have been added to 5★ N & Zekrom's Sync Grid!
Note: You will need to increase 5★ N & Zekrom's move level to 2, 4, or 5 in order to unlock some of the added tiles.
You can team up with a fair-exclusive sync pair!
Monthly Poké Fair Scout
In the Monthly Poké Fair Scout, one Fair-Exclusive Sync Pair will be featured, and the spotlight sync pair will change each month.
Also, as part of the monthly update, the Sync Pairs included in the Sync Pair Scout may be updated as well.
The volume number will also be updated each month, and your Scout Points will be reset with each update.
Note: Multiple Fair-Exclusive Sync Pairs may appear in this Sync Pair Scout, but only one will be featured.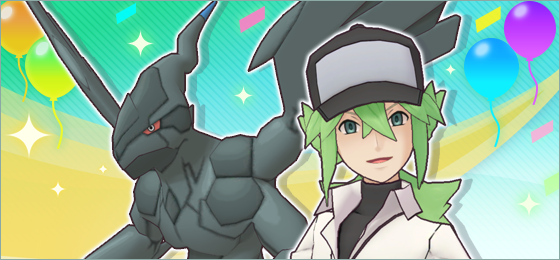 Sync Pair Scout

×11 + Present
You can receive up to 3★ Friend Key ×15 as presents according to the number of times you use the Sync Pair Scout ×11!
Note: You can view the Bonus Present Details by tapping the Bonus Present! icon on the Sync Pair Scout screen.
3★ Friend Keys
The 3★ Friend Key is an item that lets you increase the Friendship Level Cap for a Guest in the Trainer Lodge by 10.
Note: Please refer to Friendship Levels and Increasing the Friendship Level Cap in the Tips section for more details about Friendship Levels.
Date/Time
October 31, 2022 at 10:00 p.m. - November 30, 2022 at 9:59 p.m.
Important
We hope you continue to enjoy Pokémon Masters EX.