Professor Oak & Mew have come to Pasio!
Special missions under way!
Pokémon Masters is having a Six-Months Celebration thanks to the support of all you Trainers out there. To celebrate this occasion, a special event is under way!
By logging in during the event, you will team up with Professor Oak & Mew, who will have their sync grid expanded.
There is also a special mission under way to strengthen Professor Oak & Mew.
Take this opportunity to power them up!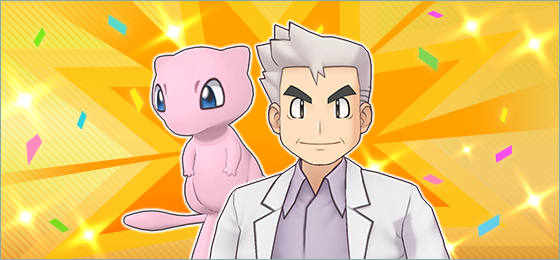 Event Details
Professor Oak

and

Mew

have come to Pasio!

During the event, Professor Oak will appear in the Pokémon Center and form a sync pair with Mew, and they will then team up with you.
There will also be a sync pair story detailing Professor Oak's journey to regain his passion as a Trainer.
Strengthen
sync pairs

through special missions

Obtain custom items to strengthen Professor Oak & Mew via special missions.
These are special items that can be obtained through these special missions.

Check the Missions screen for more details.
Event Period
February 13, 2020 at 11:00 p.m. – March 15, 2020 at 10:59 p.m.
Important
We hope you continue to enjoy Pokémon Masters.