Blissful Bonanza! Under Way!
Blissful Bonanza! starts August 7, 2022 at 10:00 p.m.!
Date/Time
August 7, 2022 at 10:00 p.m. - August 14, 2022 at 9:59 p.m.
Event Details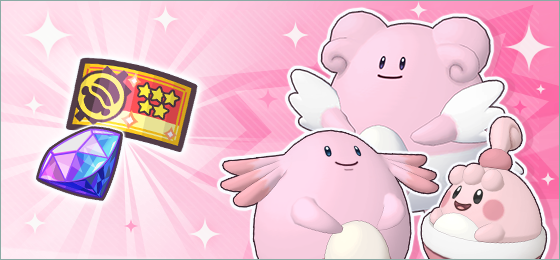 Throughout the event period, you can challenge this event battle once a day.
By completing the event battles, you can obtain Tome Sets, Vol. 1 and Codex Sets, Vol. 1. Additionally, you can obtain the following 3 types of tickets at random:
Happy Ticket

Joy Ticket

Bliss Ticket
You can exchange the tickets you obtain for items.
The Exchange Items menu has several useful items, such as 5★-Guaranteed Scout Tickets, Lucky Scrolls, and Lucky Cookies.
A special battle featuring Happiny and Chansey will be available during the following time periods.

Day 4: August 10, 2022 at 10:00 p.m. - August 11, 2022 at 9:59 p.m.
Day 7: August 13, 2022 at 10:00 p.m. - August 14, 2022 at 9:59 p.m.
You can obtain the following rewards for completing this special battle:
Tome Set, Vol. 1 ×30

Codex Set, Vol. 1 ×8

Happy Ticket ×15

Joy Ticket ×10

Bliss Ticket ×5
Note: Other battle rewards will be the same as those in the daily battles.
You can obtain Gems as first-time rewards for each battle and a total of 900 Gems if you complete all of the battles during the event.
Don't forget to complete them each day!
Event Missions
You can take on special missions during the event period.
Check the Missions screen to learn more!
Important
To participate, you must have completed

Main Story

Chapter 1

:

The More the Merrier

(Normal)

in single-player.
The

sync pairs

that appear as opponents in battle have different capabilities than those you can actually obtain.
When the exchange period for the

tickets

obtained in this

event

ends, leftover

tickets

will be converted into

coins

(10

coins

per

ticket)

and sent to your

Present Box.

All mission completion rewards must be claimed within three days of the mission period ending.
The content is subject to change without notice.
We hope you continue to enjoy Pokémon Masters EX.