A Message from the Pokémon Masters EX Team (Vol. 32)
Greetings, Trainers.
We're the producers of Pokémon Masters EX, Yu Sasaki and Tetsuya Iguchi, here with a new message for you.
Today, we'll focus on details about new Sync Pairs that debut in late March, as well as events.
App Update for Late March
Team Voice-Overs
Unique team edit voice-overs will play when forming teams with specific Sync Pairs.
Unique victory voice-overs will also play after winning a battle with certain team lineups.
We plan to add more of these voice-overs in the future, so try different team combinations to see which voice-overs you can hear!

Improvements to Eggs
The Hatch Gauge will be removed, and you will no longer need to win battles to hatch your Eggs!
Eggs that reach their time required to hatch before the update will hatch immediately after the update.
Also, the maximum number of Eggs that can be placed in an incubator via Auto-incubate will be increased from four to eight if you have purchased both an Eggcelerator Pass and the Egg Box Expansion, so we hope you give it a try!
If you are already using Auto-incubate and have purchased the Egg Box Expansion, the Egg limit will change to eight after the update.
UI Fixes and Other Improvements
We're going to add a button to the event area selection screen that takes you directly to the Missions screen if there are event missions available.
This button will be added for future events, and we hope you find it useful.
You'll also be able to see what kind of

Lucky Skills

you can learn from

Lucky Cookies

in their item details screen by tapping the Learnable Lucky Skills button, so we hope you find this useful as well.
Costume Event

Curious Tea Party

Is Coming!
Costume Event Curious Tea Party will begin on March 30, 2022.
The theme of this event will be solving riddles, and four Sync Pairs wearing special costumes connected to the event's story will debut!

You'll be able to solve riddles as you play, so we hope you look forward to this event.
Here's a look at one of the special costume Sync Pairs that will appear.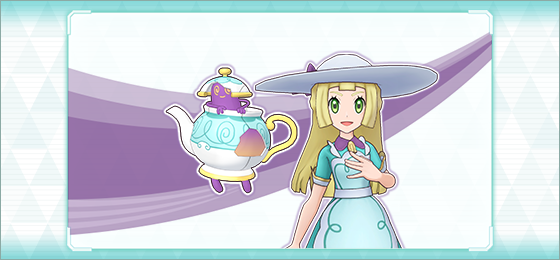 Lillie (Special Costume) & Polteageist are a Ghost-type support Sync Pair.
Their It's Teatime! Move raises the Sp. Atk of all allies by two stat ranks and applies the Gradual Healing effect to all allies. It also activates one of several additional effects at random, making it a unique Move.
There are also field effects that have a rare chance of activating, so give it a try!
They can also use their X Sp. Def All Move to raise the Sp. Def of all allies by two stat ranks and restore HP with their Potion Move or Passive Skill, making them a Sync Pair that can support allies both offensively and defensively.
Special Riddle-Solving Missions!
To go with the theme of this Costume Event, a Riddle Event that includes special riddle-solving missions will begin on April 6, 2022!
Unlike normal Missions, riddle-solving missions are mysterious Missions that do not give you specific requirements to complete.
There will be 20 riddle-solving missions in total, with one being added daily until April 25, 2022.
We've prepared a variety of riddles, so try working with other players as you solve them!
Please note that the Missions will be available until May 3, 2022.

Also, if you solve all of the riddles, you can get a Medal, a total of 6,000 Gems, and 5★-Guaranteed Scout Ticket ×60, so try to complete the Missions to get amazing rewards!
New content added to the Paulo Interlude!
Have you played through Part 1 of the Paulo Interlude in the Villain Arc yet?
The story continues in Part 2, which will be released on March 28, 2022.
In Part 2, a battle with a certain person causes Paulo to rethink some of his plans.
See for yourself how the story develops!

Also, a Villain Arc story focusing on a new region is scheduled to be added in mid-May.
We hope you look forward to seeing which Villain will take the stage in this new story.
Future Updates
Finally, we'd like to share some information about future updates.
Development of New Major Content
In a previous message, we mentioned new major content that focuses on connecting and interacting with Trainers, which is currently in development.
While we still can't give you any details about it, we'd like to share some concept art that will give you an idea of the world we're building for this content.
We'll keep giving you periodic updates as we continue to develop this content, so we hope you look forward to finding out what kind of encounters and adventures are waiting for you in this new world!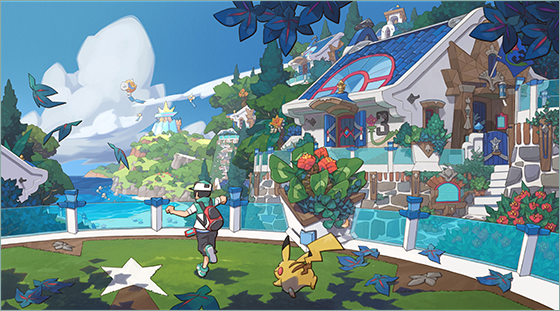 Note: This image is from concept art that is in development and will not actually appear in-game.
Other Updates
In addition to the development of new major content, we're also working on minor improvements to the game.
We plan to add a feature for the Champion Stadium in late April's update that lets you check which types you haven't used in battle yet from the Edit Team screen.
Please make use of it when aiming to earn Medals from the Champion Stadium.
Also, we plan to add a button on the area info screens for the Training Area's Cap-Unlock Area and Cap-Unlock Area 2. This will let you check how many Great Buff Blends, tomes, and other items for unlocking level caps that you own.
We're going to keep making detailed updates such as these to improve your experience.
We'll also take your opinions into consideration, so please feel free to send us feedback.
What to Expect in the Next Message
Our next message is scheduled for late April.
In it, we plan to share information about new Sync Pairs that will arrive at the end of April, as well as event details for May.
We're always working hard to deliver updates and improvements that make the world of Pokémon Masters EX as fun as possible.
We prioritize Trainers' feedback throughout the development process, so don't hesitate to let us know what you think.
Until next time, thank you for playing Pokémon Masters EX.
Pokémon Masters EX Producer: Yu Sasaki
Operations Producer: Tetsuya Iguchi
Note: The content mentioned in this message is currently under development. Titles, plans, update content, and update times are all subject to change.