A Message from the Pokémon Masters EX Team (Vol. 33)
Greetings, Trainers.
We're the producers of Pokémon Masters EX, Yu Sasaki and Tetsuya Iguchi, here with a new message for you.
Today, we'll focus on details about new Sync Pairs that debut in May, as well as events.
App Update for Late April
Sync Pair

Filter Update

The Sync Pair Filter has been updated. This allows for more detailed filtering by Move Target in the Known Moves section, so we hope you make use of it when editing your team.
Behavior of the Story Skip Function
For some areas, using the Skip button while playing will skip to the end of the story. This updated function will apply to stories to be added in the future (excluding some areas with special formats). For details on which areas this update applies to right now, please see the update notification.
Easily Check Unobtained Medal Pieces for the
Champion Stadium
You can now check from the Edit Team screen if you've obtained the pieces corresponding to each type for Medals in the Champion Stadium on Hard Lv. 1.
Battle and Team Editing Update
To immediately improve the usability of future Legendary Gauntlet events, we've updated the game's battle loss prompts and Edit Team screen.

We've expanded the kinds of battles that will display a confirmation prompt when quitting the battle upon defeat. By selecting Battle Again following your defeat, you can retry the battle from the beginning with the same team.
Unusable

Sync Pairs

will now appear at the bottom of the list on the Edit Team screen displayed before setting out for certain battle areas.
These revisions only apply to some areas. To see which areas the revisions apply to, as well as other details, please see the update notification.
We're also working on a number of other updates for the end of April, so please see the update notification.
We'd love to hear your opinions as we continue to make improvements to the game's usability, so please feel free to send us feedback.
Note: These changes will take effect after the update is applied.
Pokémon Masters EX

Surpasses Forty Million Downloads!
Pokémon Masters EX has surpassed forty million downloads worldwide!
We'd like to express our sincerest thanks to everyone for their continued support.
As a token of our appreciation, the following Rallies will start on April 27, 2022!
Forty Million Downloads Celebration Present!
We're giving out 3,000 Gems! Be sure to collect them from your Present Box once they're sent!
Forty Million Downloads Celebration Log-In Bonus
You can get up to 3,300 Gems from a Log-in Bonus that will last for 14 days.
Forty Million Downloads Celebration Special Missions
You can get up to 1,200 Gems and other rewards from Mission Bingo.
In addition, gem specials will also be available for purchase to celebrate forty million downloads, so take advantage of this opportunity!
A Series of Special Gold-Themed Events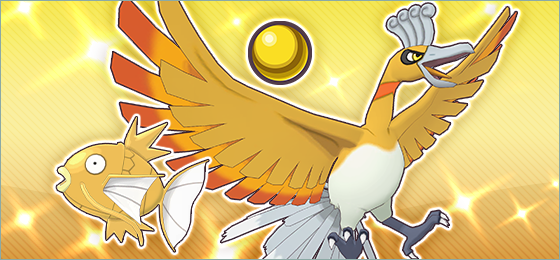 To coincide with the above Rallies, we're going to bring you a series of special gold-themed events. Here's a look at some of the content you'll be able to find in the events.
Story Event

A Golden Future

Is Coming!

Story Event A Golden Future will begin on April 27, 2022.
This event features the much-anticipated appearance of Morty in his sygna suit as he forms a Sync Pair with a Shiny Ho-Oh in golden hues!
In this event, you'll find out how Morty, who has long admired Ho-Oh, was finally able to form a Sync Pair with Ho-Oh on Pasio.
We hope you enjoy the story!
Sygna Suit Morty & Ho-Oh
Sygna Suit Morty & Ho-Oh are a Fire-type support Sync Pair.
Their moves include Potion and Sunny Day, which means they can take on the dual roles of healing and changing the weather.
Also, their Believe! Move and their Passive Skills can strengthen all allies in various ways, including a Passive Skill of theirs that grants them the Damage Guard Next effect the first time they use their Sync Move, so we recommend that you make raising this Sync Pair to 6★ EX a priority.
Solo Event

Pasio Gold Rush

Is Coming!

Solo Event Pasio Gold Rush will begin on April 30, 2022.
It appears that some mysterious hikers have been warming up in preparation for this day.
And what golden things are coming to Pasio? Find out the truth for yourself!
Daily Battle

The Golden Magikarp

Is Coming!

Daily Battle The Golden Magikarp will begin on May 4, 2022.
In this event, you can get Eggs that hatch into Magikarp and collect exclusive items to exchange for various rewards.
There will be event Missions that Magikarp can participate in, so team up with Magikarp and splash to your heart's content!
Of course, as the event name suggests, Eggs may hatch into Shiny Magikarp as well, so try to get one!
The Sinnoh Region Is Coming to the

Champion Stadium!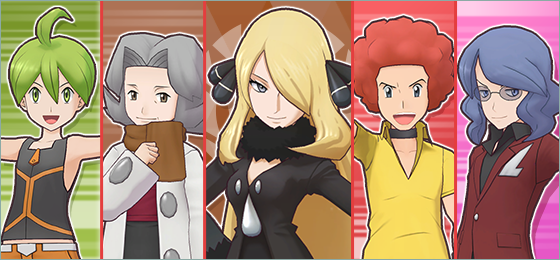 The Champion and the Elite Four of the Sinnoh region will debut in the Sinnoh Challenge, beginning on May 1, 2022. As always, special music will play during each of these battles, so we hope you enjoy listening to the music while you take on the challenge.
Also, the Sinnoh Elite Four making their debut this time might also appear somewhere else, too, so we hope you look forward to it!
The

Ground-Type Gear Event

Is Coming
The Ground-Type Gear Event will begin on May 15, 2022. This event will be your chance to power up Teams that use Ground-type Sync Pairs, so try to get all of the gear.
The

Johto Chapter

Begins!
The Johto Chapter will begin as the next part of the Villain Arc on May 18, 2022!
We hope you look forward to seeing which Sync Pairs will appear and how the story will unfold!
A New

Legendary Gauntlet

Is Coming
The third Legendary Gauntlet will begin on May 23, 2022.
This time, you'll go up against Regirock, Latios, and Tornadus. We recommend that you focus on training Grass- or Steel-type, Dragon- or Ice-type, and Electric-type Sync Pairs, as well as Sync Pairs that can deal with the characteristics of each battle.
Also, by using the Guaranteed Lucky Cookie 3 that you can get from this Legendary Gauntlet, you can learn the Super Powered 3 Lucky Skill! Make use of several different Sync Pairs, and try to get this item!
Future Updates
Finally, we'd like to share some information about future updates.
Major UI Update
We're currently working on a major update that will make improvements to the UI, which includes in-game menus and the like. This update is different from the new major content that focuses on connecting and interacting with Trainers that we mentioned previously.
This update is being developed so that it can be delivered to you in phases.
First, we plan to update the UI with a focus on improving the usability of menus used for strengthening Sync Pairs.
We hope these improvements will provide a more convenient experience while playing, so please wait a little longer for these updates.
What to Expect in the Next Message
Our next message is scheduled for late May.
In it, we plan to share information about new Sync Pairs that will arrive at the end of May, as well as event details for June.
We're always working hard to deliver updates and improvements that make the world of Pokémon Masters EX as fun as possible.
We prioritize Trainers' feedback throughout the development process, so don't hesitate to let us know what you think.
Until next time, thank you for playing Pokémon Masters EX.
Pokémon Masters EX Producer: Yu Sasaki
Operations Producer: Tetsuya Iguchi
Note: The content mentioned in this message is currently under development. Titles, plans, update content, and update times are all subject to change.