Ver. 1.5.0
Update Contents
There was an error listed in the "Supercourse Renewal!" section of this announcement. An amendment has been added.
We regret any inconvenience caused.
Updated: December 26, 2019 at 1:00 a.m.
Here are some changes coming with the Ver. 1.5.0 update.
New Mission Bingo Feature!
The new Mission Bingo feature has arrived!
Standard Mission Bingo cards come in four different difficulties, and once you complete them, they are done! However, there are also weekly Mission Bingo cards, which change every week.
You can earn rewards by completing bingo lines (vertically, horizontally, or diagonally), and blackout rewards for completing all the missions on the card.
Note: Rewards for missions you have already achieved will be awarded upon the addition of this feature.
This will be reflected starting in the Ver. 1.5.0 update.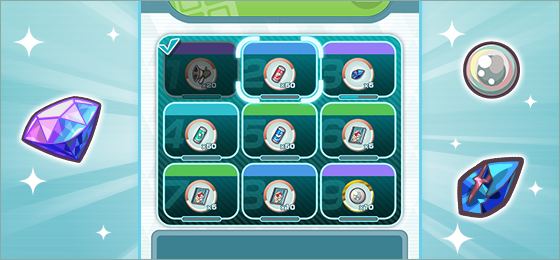 Daily Mission Renewal!
Daily mission content and rewards are getting a renewal!
Daily Vouchers have been added as a new reward and can be exchanged for all sorts of handy training items!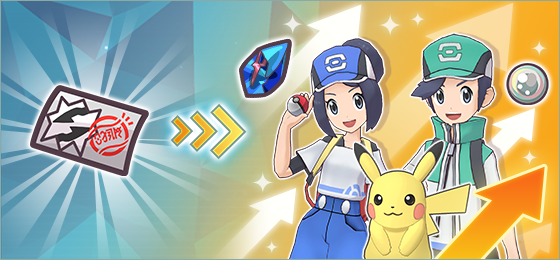 Renewal Date/Time
December 25, 2019 at 10:00 p.m.
Exchange Items Menu Renewal!
New items have been added to the Daily, Monthly, and General tabs in the Exchange Items menu!
Changes will be carried out according to the schedule below.
In the General tab, you can exchange Daily Vouchers for items that will level up your player character & Pikachu sync pair's sync moves!

Daily and General Exchanges
December 25, 2019 at 10:00 p.m.
Monthly Exchanges
December 31, 2019 at 10:00 p.m.
Tutorial Updates!
Updates have been made to some of the tutorial content!
Since some features will now be unlocked as a result of the tutorial changes, the following area info from Special Training: Battle Techniques can no longer be obtained.
Reach Past Your Limits!

Switch-In Moves!

Get Stronger with Gear!
Note: If you have already obtained this area info, you will still be able to access it even if you haven't completed it yet.
If you have not yet obtained this area info, you will not be able to claim first-time rewards, as these areas will no longer be accessible.
This will be reflected starting in the Ver. 1.5.0 update.
We will be sending a present of 100 non-paid gems along with these updates during the period below.
Distribution Period
December 24, 2019 at 10:00 p.m. - January 24, 2020 at 9:59 p.m.
Supercourse Renewal!
Adjustments have been made to the display order, number of replays, and available rewards for supercourses.
Replays
Changed from 3 times to 1 time
Available Rewards
Triple the amount prior to update
Renewed Area Info
Strike Supercourse: Will

Tech Supercourse: Shauntal

Support Supercourse: Lorelei

Level-Up Supercourse: Flint

Coin Supercourse: Thorton

Strike Supercourse: Gardenia

Tech Supercourse: Karen

Support Supercourse: Kahili

Level-Up Supercourse: Clair

Coin Supercourse: Sophocles

Strike Supercourse: Nanu

Tech Supercourse: Phoebe

Support Supercourse: Brendan

Level-Up Supercourse: Grant

Coin Supercourse: Roxie

Strike Supercourse: Drake

Tech Supercourse: Tate

Support Supercourse: Mina

Level-Up Supercourse: Marshal

Coin Supercourse: Liza
Note: The Normal, Hard, and Very Hard difficulties of each supercourse will be subject to these changes.
You can acquire first-time rewards for each of the supercourses a second time following the update.
Note: Because the completion status of each supercourse carries over following the update, first-time rewards cannot be acquired again.
Updated: December 26, 2019 at 1:00 a.m.
While the drop rate for items will remain mostly unchanged in this update, the varying rates of items that can be obtained after battles mean that it may not be triple the previous amount.
This will be reflected starting in the Ver. 1.5.0 update.
Difficulty Adjustments!
The Super Hard difficulty has been added to all areas in Main Story (Co-op).
Scheduled Time/Date
January 7, 2020 at 10:00 p.m.
The following difficulty levels have also been adjusted.
Difficulty Levels
Note: This will be reflected starting in the Ver. 1.5.0 update.
Look for more exciting updates coming soon!
We hope you continue to enjoy Pokémon Masters.